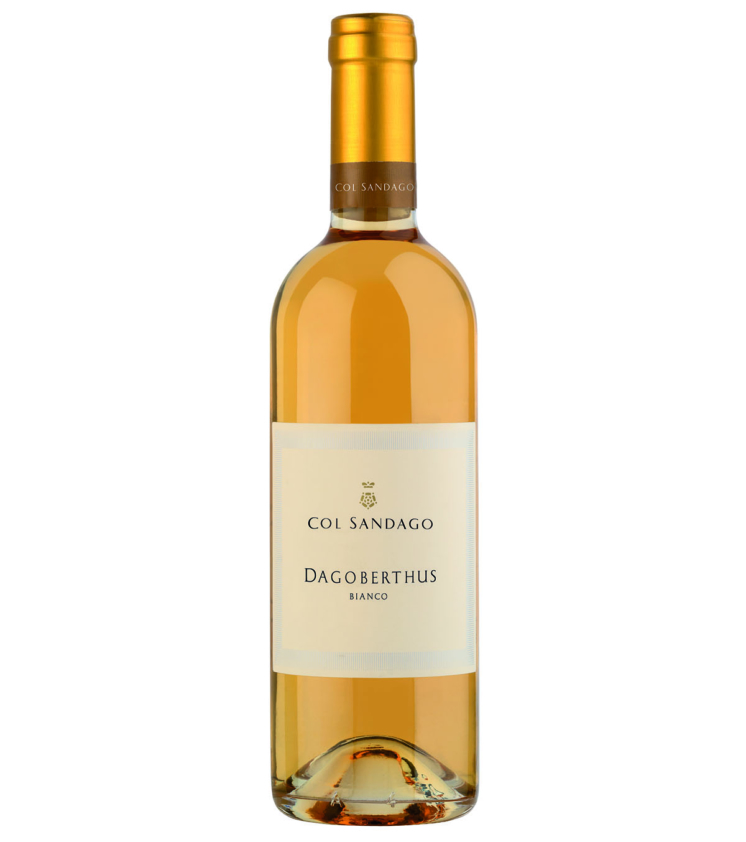 DAGOBERTHUS BIANCO
VINO BIANCO DOLCE
NAME: "Dagoberthus Bianco" Col Sandago.
CLASSIFICATION: sweet white wine of overripe grapes.
TYPE: sweet white wine.
GRAPE VARIETY: white grapes of the region.
PRODUCTION AREA: Col Sandago company vineyards in Susegana (TV).
SOIL: calcareous, clayey, with sandstone subsoil.
HARVEST: grapes are hand-picked in the second half of September, carefully selecting the best bunches.
The grapes are then placed in small crates and dried naturally in the company "fruttaio" (fruit drying loft).
VINIFICATION: the grapes are dried until February and then pressed. The very sweet, concentrated juice that is extracted is immediately placed in oak barrels to ferment.
AGEING: 18 months in oak barrels.
APPEARANCE: clear, golden yellow.
AROMA: intense, with notes of candied fruit, citrus peel, herbs and spices.
FLAVOUR: sweet, enveloping, and refreshing with good acidity and perfect nose-palate harmony in the finish.
SERVING SUGGESTION: a dessert wine, it goes well with almond biscuits and biscuits in general. Also excellent with blue
cheeses, goat cheeses, Gorgonzola and Stilton.
SERVING TEMPERATURE: 10-12 °C
ALCOHOL CONTENT: 14% Vol
ACIDITY: 5.8-6 g/I
RESIDUAL SUGAR: 140 g/l
BOTTLE: 500 ml