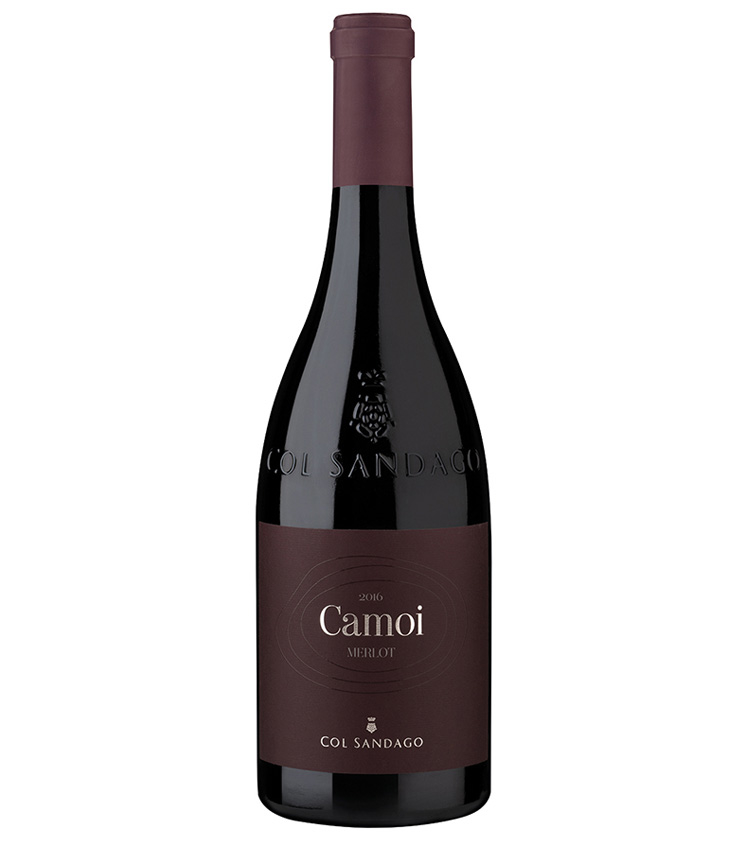 [/vc_column]
CAMOI

IGT COLLI TREVIGIANI
NAME:"Camoi" Col Sandago.
CLASSIFICATION: Colli Trevigiani IGT (Typical Geographical Indication).
TYPE:red wine.
GRAPE VARIETY:pure Merlot.
PRODUCTION AREA:Col Sandago's "Camoi" vineyard in Susegana (TV).
SOIL:calcareous, clayey, with sandstone subsoil.
YIELD:1.5 Kg per plant, 7.500 Kg/hectare.
HARVEST:grapes are hand-picked during the first ten days of October.
VINIFICATION:pressing an d destemming followed by traditional red fermentation with maceration on the skins
for 12-15 days at 26-28 °C and daily pumping over. Malolactic fermentation follows.
AGEING:24 months in 500-litre oak barrels, half of which are new and half of which have been used once
or twice before. Followed by bottle-aging for at least 6 months.
APPEARANCE:vibrant red.
AROMA:generous and intense, with blackberry and cherry scents and a spicy note.
FLAVOUR:well-structured with silky, close-knit tannins and a lingering finish.
SERVING SUGGESTION:an ideal accompaniment to savoury and distinctive second courses – excellent with roast meats,
game and aged cheeses.
SERVING TEMPERATURE:18 °C
ALCOHOL CONTENT:13% Vol
ACIDITY:5.2 g/l
BOTTLE:750 ml, 1500 ml