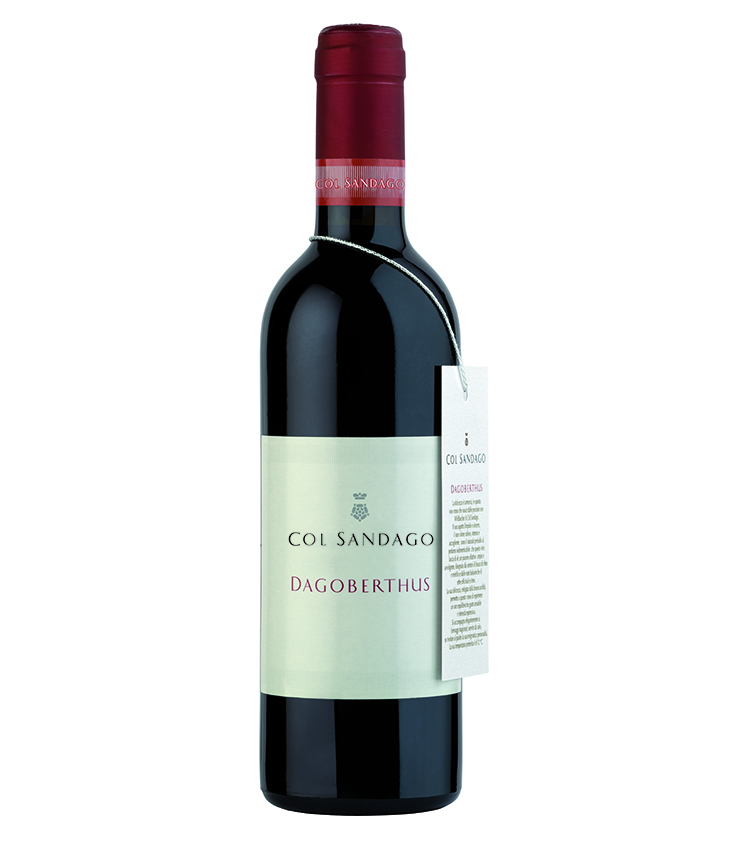 DAGOBERTHUS
VENETO
IGT
VINO ROSSO DOLCE
NAME:"Dagoberthus" Wildbacher Passito.
CLASSIFICATION:Veneto IGT (Typical Geographical Indication).
TYPE:sweet red wine.
GRAPE VARIETY:Wildbacher.
PRODUCTION AREA:Col Sandago company vineyards in Susegana (TV).
SOIL:calcareous, clayey, with sandstone subsoil.
YIELD:1 kg per plant.
HARVEST:grapes are hand-picked in mid-October, carefully selecting the best bunches. The grapes are then
placed in small crates and dried naturally in the company "fruttaio" (fruit drying loft).
VINIFICATION:the grapes are dried until December and then pressed. The very sweet, concentrated juice that is
extracted is placed in oak casks to ferment.
AGEING:18 months in oak barrels, followed by at least 6 months in bottles.
APPEARANCE:strong, vibrant red.
AROMA:generous and enveloping, with scents of berries, including currants and blueberries, and fragrant
notes of medicinal herbs and thyme.
FLAVOUR:sweet but not cloying, with a refreshing good acidity that balances the tannins.
SERVING SUGGESTION:a wine to savour by itself, exploring its enigmatic personality, or to enjoy with aged cheeses.
Pair it with chocolate for an intriguing combination.
SERVING TEMPERATURE:12 °C
ALCOHOL CONTENT:14% Vol
ACIDITY:6 g/l
RESIDUAL SUGAR:130 g/l
BOTTLE:350 ml