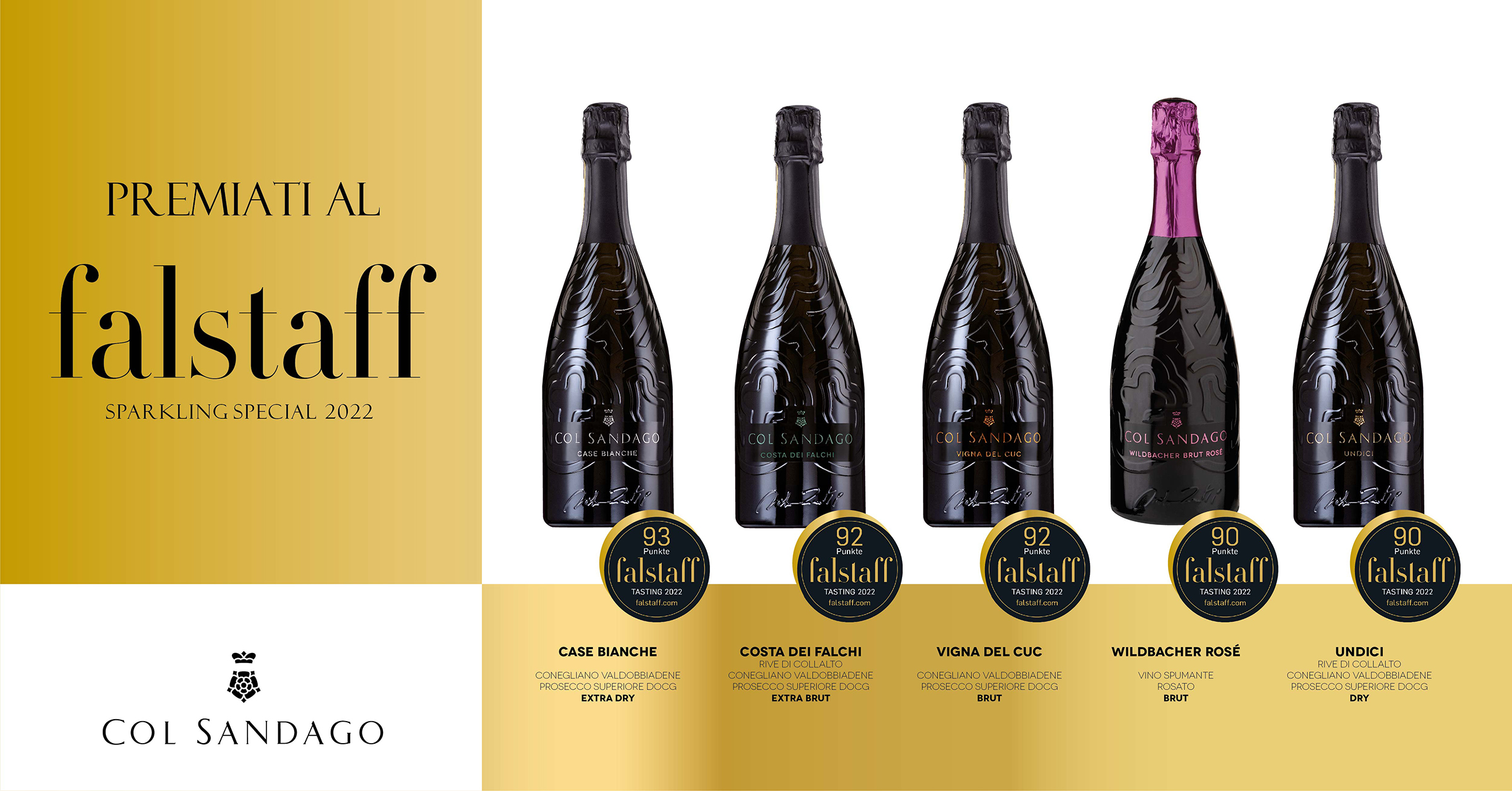 2023 marks the entry of the winery and its excellences in the first edition of Wein Guide Italien, dedicated to the world of Italian wine and confirms prestigious votes within Sparkling Special 2022.
Col Sandago obtains a double recognition from Falstaff — German-speaking leading magazine in the world of wine— which marks a certificate of value and connection with a market to which the winery has always been deeply linked. 
This is on the one hand the entry into the first edition of the Wein Guide Italien 2023 and on the other the confirmation of presence within Sparkling Special 2022. Both guides are the result of careful selection and in-depth tastings, in which the editor-in-chief Othmar Kiem and the editor and manager of Falstaff Italia tastings Simon Staffler, together with their team, present the result of months of evaluations leading to the realisation of these two projects.
Thus, with a total score of 3 stars, Col Sandago has a place of honour among the 400 Italian wineries recognised as the best by Wein Guide Italien 2023 with a selection of wines, represented not only by the typical expressions of the origin territory, the beautiful hills of Conegliano — Valdobbiadene, but also by the precious Wildbacher, native vineyard of Styria cultivated here with the most of care and attention.
For this fifth edition, Falstaff Sparkling Special 2022 offers a competent overview of the European sparkling scene, after the intense tasting sessions it has awarded with absolute votes some of the most significant 2021 sparkling wines of Col Sandago. 93 Points for Case Bianche Valdobbiadene Prosecco Superiore DOCG Extra Dry; 92 Points respectively for Costa Dei Falchi Rive di Collalto Valdobbiadene Prosecco Superiore DOCG Extra Brut and Vigna Del Cuc Valdobbiadene Prosecco Superiore DOCG Brut. 90 Points for Wildbacher Rosé VSQ Brut and Undici Rive Di Collalto Valdobbiadene Prosecco Superiore DOCG Dry respectively.
Thanks to its skills and passion, Col Sandago transforms with care and dedication what nature and territory produce to give life to wines of extreme pleasure, that can now proudly boast of new international awards.